W
A handicapper's blog from The Wizard and friends
A Series Bases on the Teachings of the Legendary Harvey Pack
Harvey Pack was one of the greatest ambassadors in the history of horse racing handicapping. As one of the most visible personalities on the New York circuit, Pack spent his career educating the public by spouting words of wisdom easily digested by fans and handicappers of all ages and skill levels.
In this series, called "Pack-xioms," we'll apply Harvey's teachings to modern-day handicapping and wagering strategies. We'll use the titles of each chapter of his book, "Pack at the Track," which was co-written by Peter Thomas Fornatale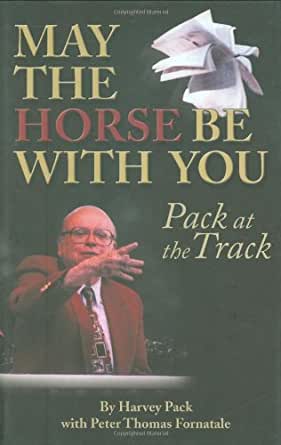 RULE #1: Every time the starting gate opens, expect to be humbled.

We're certainly starting off on a positive note, aren't we?
The important thing I take away from this is the simple fact that horses are not machines. They're not programmed to do the same things each and every time out, and any number of variables could throw a monkey wrench into a situation any handicapper thinks he/she has pegged.
Just to name a few scenarios where this could happen: A jockey could take a speed horse back. Weather could pop up that changes the track condition. A trainer could give a very specific set of instructions that goes against what one may see in the form. A horse that figures to be a "lone speed" type gets an unexpected challenge, turning a dream trip into a nightmare.
None of these scenarios are at all uncommon, and in nearly every case, they're not nefarious when they happen. What the possibility of these scenarios coming up teaches us is to carefully evaluate situations, not envision a scenario where one is "bulletproof," and to stay even-tempered when things go haywire.
A common misconception exists that paints horseplayers as a very negative bunch of people. I don't believe that's true. In fact, I think most veteran players are incredibly optimistic. They show up every day, push through bad beats and situations that would be unimaginable in other sports, and they keep the industry going by putting money through betting windows and ADW platforms. Those who say they "quit" are almost always back the next day (if not sooner), to the point where social media diatribes from those people come off as comical more than anything else.
Those who succeed in this game in the long run understand that they're going to be wrong a lot. A handicapper who picks every race, every day, and connects with 30% of top picks is doing a heck of a job. In that same vein, someone who's firing every day isn't going to connect on every wager, even with strong insight and sound money management. There are going to be dry spells and cold streaks, for any number of reasons, and that's okay.
Like gamblers in other endeavors, many of these handicappers remain successful because they know how to minimize risk and maximize reward over a long period of time. That doesn't mean bad beats won't happen, or that a handicapper will know exactly how each race will be run before the gates are sprung. What it does mean is that the winning handicapper in question is well-equipped for the inevitable swings that are bound to occur. This person can enjoy success and shrug off failure knowing the process they're using is sound (and the best way to be in the black over lengthier periods).