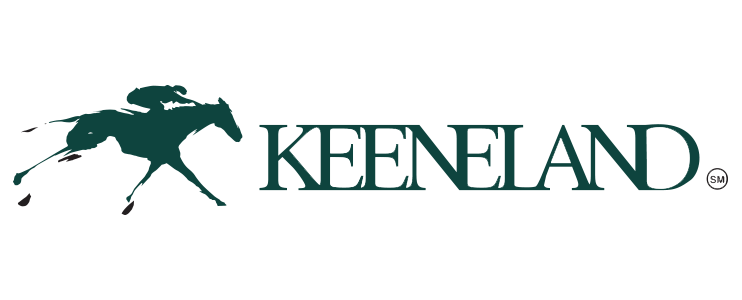 Keeneland Racetrack
Keeneland Racecourse is located in Lexington, Kentucky, in 'Bluegrass Country.' Racing is conducted 5-days a week. There is a mixture of dirt and turf races at various distances. Since Keeneland is located in horse country where there are many of the most famous breeding operations, high profile owners and breeders' aim for this meet.
In addition to hosting world-class thoroughbred racing, Keeneland is famed for being located in beautiful surroundings. The track also boasts the most prominent Thoroughbred auction house globally, with sales taking place four times a year.
Many Breeders Cup and Kentucky Derby winners were sold at the Keeneland auctions before becoming household names.
Keeneland Park Racing Season
Keeneland hosts a combined total of 32 race-days per year, and these are separated into a spring and fall meet.
The spring meet takes place throughout April and consists of 15 days of high-quality action on both the dirt and turf course. It is one of the richest meets in North America, with highlights including the Blue Grass Stakes and the Ashland Stakes.
Keeneland's Fall Meet includes 18 stakes worth a total of $4,775,000. The 17-day event is one of the best-attended events in the world of thoroughbred racing. Six grade one event occurs during this period, many of which are prep races for the Breeders Cup, which follows the meet at the beginning of November.
Saratoga and Keeneland racecourse is very similar in feel. Both are historic venues that have featured some of the most incredible racing for many years.
Keeneland Stakes Race
Racing is conducted for two short meets in the spring featuring several prestigious Grade 1 events. These events include the Blue Grass Stakes, a 'key' Kentucky Derby prep, and several stakes in the fall that serve as 'key' preps for many Breeders' Cup races.
Keeneland Track History
Following the Kentucky Association track's sudden closure in 1933, Lexington was left without a venue, and several prominent horsemen were left feeling deprived. One of those horsemen was Jack Keene, who owned 147 acres of farmland. He decided to enlist the help of Hal Prince Headley and Major Louie Beard to draw up plans for a racetrack.
Despite concerns from residents, it took just 15 months to open Keeneland, and all profits were returned directly to the community and local projects. It was initially managed by a team of volunteers, who were delighted to see over 8,000 spectators attend the racing racetracks opening day. The track almost broke even following its opening nine-day meet.
Keeneland has preserved a number of its traditions over the years. For example, it was the last track to broadcast race-calls via its public address system until it was finally scrapped in 1997. There is undoubtedly a "retro" feel to the track, and although it has modernized where necessary, it still retains much of its original charm.
A trackside winners circle was added in 1984, ahead of a visit from Queen Elizabeth II, while a turf course was also installed twelve months after. For the next twenty years, Keeneland played home to a Polytrack surface, although this reverted to a dirt track in 2004.
Despite several prominent thoroughbred industry leaders' requests to acknowledge Keeneland, the track wasn't selected to host the world-famous Breeders Cup until 2015. Despite initial skepticism, the track's hosting of the prestigious event was considered an enormous success, and it has also been selected to host the Breeders Cup in 2020.
Our Keeneland Picks are Different
Wizard Race and Sports' leading handicapper, The Wizard, has been a horse handicapping leader for over three decades and is committed to bringing back professionally handicapped horse racing picks to the masses. No more automated selections for horse racing picks were completed in minutes.
Our team spends hours preparing our selections and backs it up with detailed analysis. Unlike these charlatans, our professional handicappers do their homework, and you can see this clearly in all our premium products. Our products break from the industry mold of cheap picks, bringing world-class handicapping to the masses at affordable prices with something for the novice or seasoned handicapper.
Not only that, but the Wizard Race and Sports products are the only picks updated 30 to 60 minutes before the first post, after late scratches and track conditions are known.
Why Buy Wizard Race and Sports Keeneland Picks?
Wizard products are designed to help both the casual fan and the serious horseplayer. Not only are these the best Keeneland picks, but the information is simple and easy to understand.
We created Wizard Race and Sports from the ground up to make educating, researching, picking winners, handicapping, and interacting with other handicappers, transparent and approachable for newcomers and experts alike.