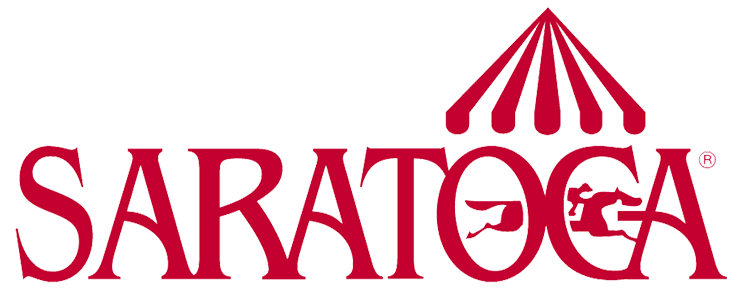 Saratoga Racetrack
Saratoga Racetrack is one of the premier thoroughbreds meets in the world. The most competitive trainer and riding colony are on display. Trainer Chad Brown has been the 'king-pin' at Saratoga in recent years.
Entries from his large stable fill many races, especially those run on the grass. Brown wins many stakes events as well. Todd Pletcher is his main rival, with Christophe Clement, a horseman to be reckoned with. The Ortiz brothers, Jose and Irad, usually vie for riding honors, with Joel Rosario and Javier Castellano in close pursuit.
Sprint Races on the dirt are run at 5 ½, 6 ½, and 7 furlongs. 2-turn races are usually run at 1 1/8 miles with a few at longer distances.
Saratoga uses two turf courses-the inner turf and the Mellon turf course. Because they have two grass courses, it is not unusual to see 5-6 races a day run on the grass during the Saratoga meet. Saratoga was once known as the 'graveyard of favorites.' In recent years that has not held up, as the betting favorites have done quite well.
After the races, Saratoga Springs offers a wide array of dining and drinking experiences. The town is always hopping with live entertainment.
Saratoga Racing Season
The meet today lasts 40 racing days, with races held five days per week, and traditionally spans from mid-July through Labor Day in early September. The meet has been lengthened gradually since that time; for many decades, the meet lasted four weeks and began in late July or early August.
Each summer, from Mid-July to Labor Day, 5-days a week, Wednesday through Sunday, the most competitive thoroughbred horse racing is conducted.
Saratoga Stake Races
Many prestigious stakes races are run during the meet, highlighted by the Grade 1 Alabama and the Grade 1 Travers, known as the Mid-Summer Derby. Both these races are for 3-year olds, the Alabama is for fillies, and the Travers is for males.
Saratoga Track History
Standardbred racing began in Saratoga Springs as early as the mid-1800s. By the mid-1800s, Saratoga was the summer home of many wealthy Americans and internationals, and a hotbed of tourism and gambling. In 1863, future congressman John Morrisey held the first thoroughbred race card on the current location of the Oklahoma Training Track.
In 1864, the existing track opened its doors. Key figures in the creation were John Hunter, William R. Travers, and Cornelius Vanderbilt.
The late 1800s were a period of decline for the Race Course. In 1892 it was purchased by notorious gambler Gottfried "Dutch Fred" Waldbaum. Who also operated the infamous Guttenberg racetrack in North Bergen, New Jersey. Finally, it was purchased in 1901 by a group of investors led by William Collins Whitney, who made significant improvements and restored its reputation, inline to how we know it today.
Although Saratoga Race Course is considered the third oldest race track and course in the U.S., by many accounts, it is the oldest organized sporting venue of any kind in the country.
Saratoga has held racing annually since 1864, with very few exceptions. In 1896, there was no meet held due to a high volume of tracks in the area. Then in 1911 and 1912, anti-gambling legislation eliminated racing for those summers. From 1943-45, racing was suspended due to World War II.
When Triple Crown victor Gallant Fox was defeated by a horse (Jim Dandy) with 100-1 odds in 1930, Saratoga became known for its ominous nickname "The Graveyard of Champions."
In the 1960s, the grandstand was expanded, doubling the seating capacity. In 1999, Saratoga Race Course was rated as Sports Illustrated's #10 sports venue of the 20th Century, alongside iconic American venues Wrigley Field, Yankee Stadium, Augusta National Golf Club, and Lambeau Field.
Our Saratoga Picks are Different
Wizard Race and Sports' leading handicapper, The Wizard, has been a horse handicapping leader for over three decades and is committed to bringing back professionally handicapped horse racing picks to the masses. No more automated selections for horse racing picks were completed in minutes.
Our team spends hours preparing our selections and backs it up with detailed analysis. Unlike these charlatans, our professional handicappers do their homework, and you can see this clearly in all our premium products. Our products break from the industry mold of cheap picks, bringing world-class handicapping to the masses at affordable prices with something for the novice or seasoned handicapper.
Not only that, but the Wizard Race and Sports products are the only picks updated 30 to 60 minutes before the first post, after late scratches and track conditions are known.
Why Buy Wizard Race and Sports Saratoga Picks?
Wizard products are designed to help both the casual fan and the serious horseplayer. Not only are these the best Saratoga Park picks, but the information is simple and easy to understand.
We created Wizard Race and Sports from the ground up to make educating, researching, picking winners, handicapping, and interacting with other handicappers, transparent and approachable for newcomers and experts alike.