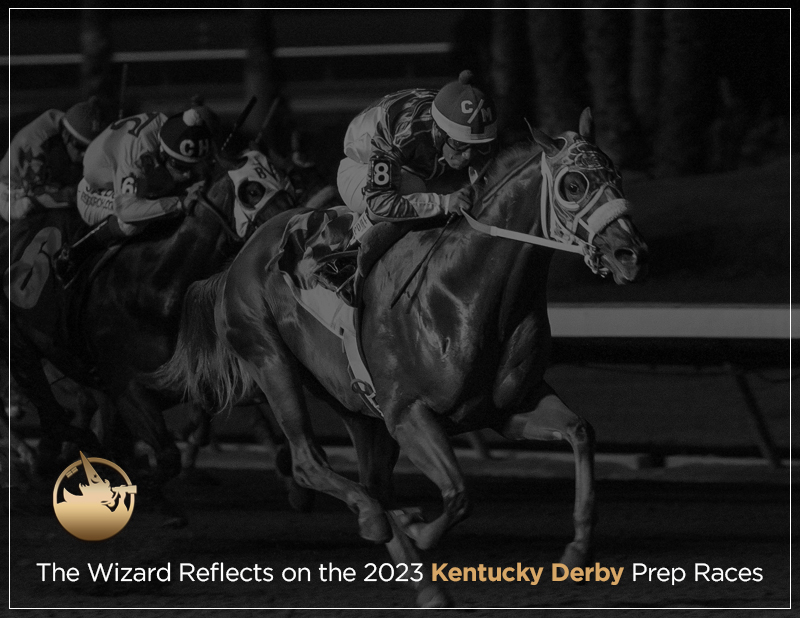 BELMONT STAKES-GRADE 1, JUNE 10, 2023
Winner: ARCANGELO (Sire: Arrogate, Dam: Modeling
Trainer: Jena Antonucci
Jockey: Javier Castellano
Owner: Blue Rose Farm
Distance/ Time: 1 ½ miles. 2:29 1/5
Win Margin: 1 ½ lengths.
Wizard's Track Bias: None
Wizard's Pace Analysis: Honest
Wizard's Strength of Race: 3/5
Wizard's Reflection:
ARCANGELO Saved ground from the start while tugging hard on the reigns in the early going. Steadied back on the backstretch with Castellano taking a stronghold trying to get Arcangelo to relax which he did approaching the far turn. While full of run and settling into a nice fluid stride, Castellano seized command turning for home when a large opening along the inside surfaced, opening up 3 ½ lengths on the field in mid-stretch. Arcangelo began drifting out inside the 1/8th pole, but he had put too much distance on his closest pursuers not to hold on to his 1 ½ length victory. Terrific ride by Castellano in every sense of the word. 
FORTE, returning from a 7-week layoff and a foot injury, ran very well to secure the place money by a nose. He appeared to be floundering racing well off the early leaders on the backstretch and approaching the top of the lane. Jockey Irad Ortiz Jr. swung Forte out very wide for the stretch run where he leveled off finishing best of all in the late stages of the race. He simply ran out of ground in a fine effort. Forte's stretch run was reminiscent of his Florida Derby stretch run, but this time, he was unable to overhaul the winner.  
TAPIT TRICE found the wider turns and the 1 ½ miles more to his liking than in the Kentucky Derby. Broke last and then was soon guided to the outside where he prefers to be. He made a strong move while stacked outside several rivals around the far turn. Had dead aim the length of the stretch but was unable to sustain his stretch rally, missing second by just a nose in a solid performance.
HIT SHOW chased in third place a good part of his journey with dead aim throughout. He never stopped trying through the stretch but was unable to make any headway in the final 1/8th of a mile. It was a solid effort, but he's proven to be a cut below the very best of his generation at this point of time.  
NGEL OF EMPIRE was adding blinkers for the first time and the experiment backfired. He was too keen in the early going while parked wide. He continued to race wide down the backstretch and into the far turn when Prat asked him to move between horses. He was unable to sustain a strong stretch run racing inside of Tapit Trice, dead heating with his stablemate Hit Show. I would venture to say that if blinkers were not put on and he was able to take back, relax and make one run, a better outcome and a possible victory could have been in the cards. 
NATIONAL TREASURE was hounded for the early lead but was able to get some clearance from the pace pressure put on him by Tapit Shoes. Velazquez was able to get him to relax down the backstretch settling into a nice fluid stride. He was challenged in earnest throughout the stretch run, faltering in the final 1/16th of a mile. Clearly the 1 ½ miles took its toll on him late.