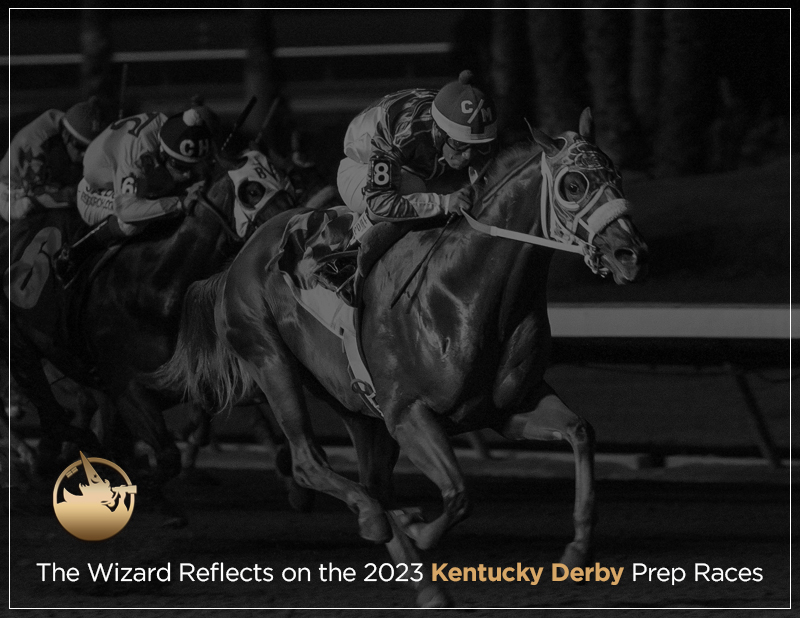 FLORIDA DERBY-GRADE 1 (GULFSTREAM) April 1, 2023
Winner: FORTE (Violence-Queen Caroline)
Trainer: Todd Pletcher
Jockey: Irad Ortiz Jr.
Owner: Repole Stable and St Elias Stable
Distance / Time: 1 1/8 miles 1:48 3/5 Track Fast
Win Margin: 1-length.
Wizard's Track Bias: None
Wizard's Pace Analysis: Honest
Wizard's Strength of Race: 3.5 / 5
Wizard's Reflection:
The top two finishers out of the Florida Derby will march on to the Kentucky Derby as major contenders and deservedly so. FORTE will likely be the overwhelming betting favorite winning his 6th race in 7 career starts. Sent off as the overwhelming 1-5 favorite facing 11-rivals, he was expected to win, but it wasn't easy. Irad Ortiz Jr rated Forte in 9th position down the backstretch. Ortiz was scrubbing on him on the far turn to pick up horses, showing only a mild response. He did not panic when MAGE blew on by from the outside. Turning for home, Ortiz guided Forte widest with a clear run of Mage, who had taken a clear lead and loomed an upset danger to win the Florida Derby. With strong fluid strides, Forte cruised by Mage in the very late stages and was taken in hand at the finish line winning with something left in the tank. It was another impressive winning effort by Forte, making his second start off a layoff. He also received a brilliant and patient ride by Ortiz who had guided Forte a couple paths further inside than where he was entering the backstretch and did not panic when Mage passed him with a blitz. When a quality horse snatches victory from defeat like he did, it only proves that he has the ingredients and the resume to win the Kentucky Derby. The big question, like for many others in the Derby field, is if he can be just as effective stretching out to 1 ¼ miles at odds close to even-money if no other 3-year-old steps up in the Wood Memorial, Blue Grass or the Santa Anita Derby.
Second place finisher MAGE ran just as well in defeat as Forte did. He broke awkwardly at the start, quickly finding himself last of 12. Jockey Luis Saez eased Mage outside of rivals in the 3 path into the first turn instead of looking to angle him inside for a ground saving trip. Entering the backstretch, Saez committed to a wide journey and was forced to make a premature middle-move in an attempt not to get hung out even wider on the second turn. He also wanted to get the jump on Forte, who he probably saw was struggling a bit. I don't blame Saez for making this move, but once committed in doing so, he was all in for the potential upset. In deep stretch, it looked for a moment that the operation was successful, but in the end, the patient died, as Forte cruised on by. Considering both horses' trips, I would rate their performances equally as good. What makes Mage's performance even more impressive, is that he was able to sustain his rally after running very quick internal middle-fractions, in a race where the final 1/8th of a mile was run in a solid 12:16 seconds. It must also be noted that Forte had far more racing experience with 4 more starts than his rival and much more foundation since he began his racing career last May. Mage had run twice with his debut coming just 2-months ago.