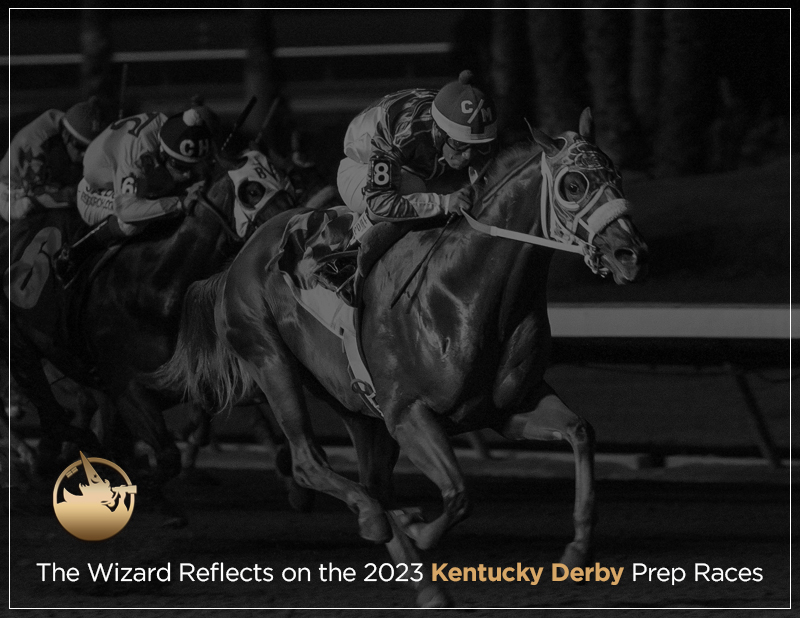 REBEL-GRADE 2 (Oaklawn) February 25
Winner: CONFIDENCE GAME (Sire: Candy Ride, Dam: Eblouissante
Trainer: Keith Desormeaux
Owner: Don't Tell Me Wife Stables
Distance: 1 1/16 miles 
Time: 1:44 1/5 (Sealed sloppy track)
Win Margin: 1-length.
Wizard's Track Bias: No bias. Key was how a horse handled the sealed sloppy track.
Wizard's Pace Analysis: Fast
Wizard's Strength of Race: 2 /5
Wizard's Reflection:
The fast fractions clearly aided the first 3 finishers as there was a pace melt-down in the stretch. The 18-1 winner CONFIDENCE GAME handled the sealed sloppy surface well with a well-timed move from jockey Jimmy Graham to take command turning for home. He had enough left to hold off the late charge of runner up RED ROUTE ONE who was nearly 20-lengths back in the early going. Confidence Game drifted out late and did not change leads. He doesn't appear a Kentucky Derby contender unless I see something more I like back on a dry track in his next start.
Red Route One knifed his way between horses at the top of the stretch and then moved closer to the inside at 3/16th pole.  Like the winner, he never changed leads in the stretch. He clearly benefited from the fast fractions and a clean trip.
Third place finisher REINCARNATE would have been closer at the finish with a cleaner trip. He was shuffled back at the start. Was moving well in the stretch when steered outside racing in traffic. Checked when in tight at the 1/8th pole. Quickly recovered to show another gear with a good late finish. Considering Reincarnate raced further back early on than in any of his previous 5 starts on the west coast and racing over a sloppy track for the first-time switching trainers from Bob Baffert to Tim Yakteen, he ran a very solid race. Certainly, a horse to keep tabs on going forward.  
Fourth place finisher VERIFYING ran very well. Chased quick fractions along the inside right from the start. Eased outside turning for home. Geroux wanted to come outside in mid-stretch, but was boxed in and had to alter course back in. Continued on willingly to the wire.