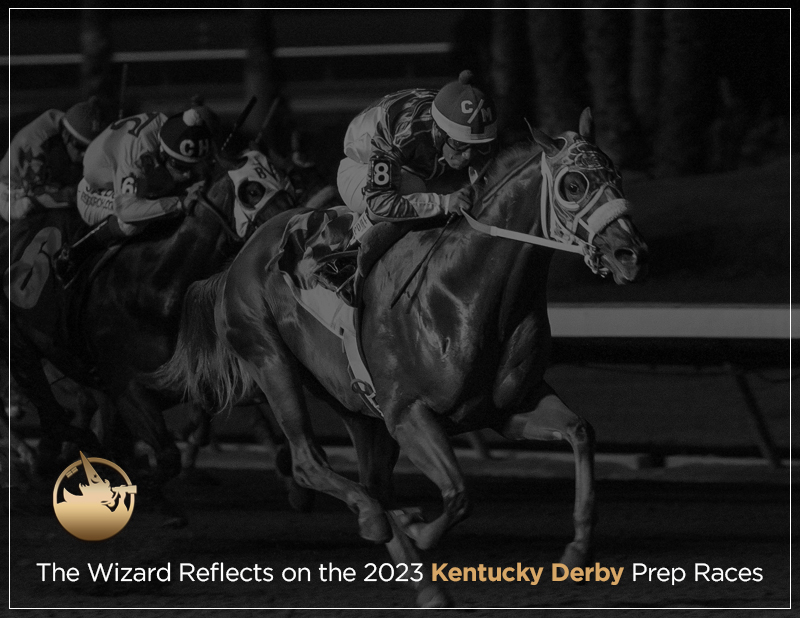 LOUISIANA DERBY-GRADE 2 (FAIRGROUNDS) March 25, 2023
Winner: KINGSBARNS (Sire: Uncle Mo, Dam Lady Tapit)
Trainer: Todd Pletcher
Jockey: Flavian Prat
Owner: Spendthrift Farm
Distance & Time: 1 3/16 miles. 1:57 2/5
Winning Margin: 3.5 lengths 
Wizard's Track Bias: None
Wizard's Pace Analysis: Slow
Wizard's Strength of Race: 2.5 / 5
WIZARD'S REFLECTION:
KINGSBARNS made it 3 wins in 3 career starts with a decisive front running score. He was likely going to be the speed of the race, and that was the case, after being hard ridden to the early lead. Only Jace's Road put mild pressure on Kingsbarns into the first turn. Down the backstretch, Prat was able to take a good hold of the son of Uncle Mo and slow down the fractions. Kingsbarns stride was fluid and strong and once he turned for home and put some distance on his rivals, the outcome was never in doubt in an easy win. 
All 3 of Kingsbarns victories have been at a mile and over and he's improved with each start. He should have no problem stretching out to 1 ¼ miles in the Kentucky Derby. What I like about him is his versatility. Today he wired the field, but in his first 2 starts, Kingsbarns rated kindly stalking in perfect striking position. His tactical speed certainly will help him in the Derby where the competition will be tougher than what he faced on Saturday and a full of 20 is likely.
DISARM ran better than what it appears on paper. He really had no shot catching the winner after steadying a bit on the far turn. In the stretch when he was able to stretch his legs out and extricate himself away from horses, Disarm closed very well against the slow fractions. The finish could have been closer with a better pace set up and not being as far back as he was at the ¼ pole. Certainly, a horse to keep your 'eye on' in the future.
The big disappointment in the Louisiana Derby was the over-bet 3-2 favorite INSTANT COFFEE who had shown in his previous 4 starts a lack of early speed. Once again, he found himself far back of the pacesetter entering the backstretch. Instant Coffee made a strong wide premature move against a slow pace, picking up several positions turning for home, but flattened out in the final 3/16th. He clearly wants a cut back in distance and in my opinion should be taken off the Kentucky Derby trail.