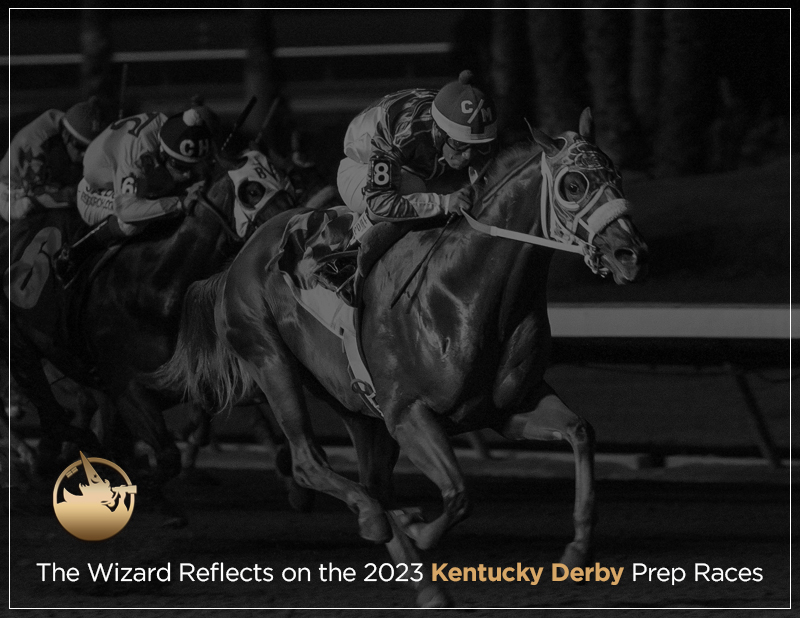 Preakness-Grade 1 (Pimlico) May 20, 2023
Winner: NATIONAL TREASURE (Sire: Quality Road, Dam: Treasure)
Trainer: Bob Baffert
Jockey: John Velazquez
Owner: SF Racing, Starlight, Madaket
Distance/Time: 1 3/16 miles. 1:55 1/5
Win Margin: head.
Wizard's Track Bias: Stalkers/Mid-Pack-2 Outside Paths-2 Rail was off.
Wizard's Pace Analysis: Moderate
Wizard's Strength of Race: 2.5 / 5
Wizard's Reflection:
 NATIONAL TREASURE was the dominant speed from his inside post giving Bob Baffert his 8th Preakness victory and jockey John Velazquez his 1st. Broke sharp and was able to set comfortable fractions while being kept off the deeper inside. Fought off cheap speed into the far turn but was soon challenged by BLAZING SEVENS turning for home. These 2 battled "tooth and nail" from the 3/16th pole to the wire with Blazing Sevens leaning in and bumping the pacesetter several times late. National Treasure fought on tenaciously in the shadow of the wire, prevailing by head.
 Blazing Sevens was perched outside around the first turn and in the run down the backstretch. Irad Ortiz Jr. seized the opportunity to go after the front runner and attack that rival midway on the far turn. These 2 hooked up in a stirring stretch battle with Ortiz being very aggressive in an attempt to intimidate National Treasure to the point of bumping that rival several times from the 3/16th pole home. He looked like a winner in the shadow of the wire, but Velazquez was able to shake up his mount to prevail by a head.        
 MAGE clearly showed the effects of being wheeled back on just 2 weeks rest following his Kentucky Derby victory. He was aggressively ridden by Castellano to take up a good striking position saving ground early on in this much smaller field. Castellano took him further back on the far turn, looking to guide Mage outside of rivals turning for home. With dead aim on the top 2 at the top of the stretch, Mage loomed for an instant before lugging in a bit at the 1/8th pole and simply flattened out when it counted. Being lightly raced with no 2-year-old foundation, wheeled back on short rest, and experiencing a pace and trip set up that did not flatter his preferred running style, all attributed to his disappointing performance. Mage has earned a well-deserved rest. If he were my horse, I would strongly consider a Jim Dandy-Travers plan. 
 RED ROUTE ONE was severely compromised by the moderate fractions and being taken out of his best game which is as 1 run deep closer. He was rank early, made a premature move along the deeper rail, finishing evenly. Considering the obstacles he had to face, it was a respectable performance. He clearly would benefit being placed in a spot he could win at to help build up his confidence. 
 The remaining 3 horses were way overmatched as well as being way over-bet. 
The rest of the field had very little excuse.