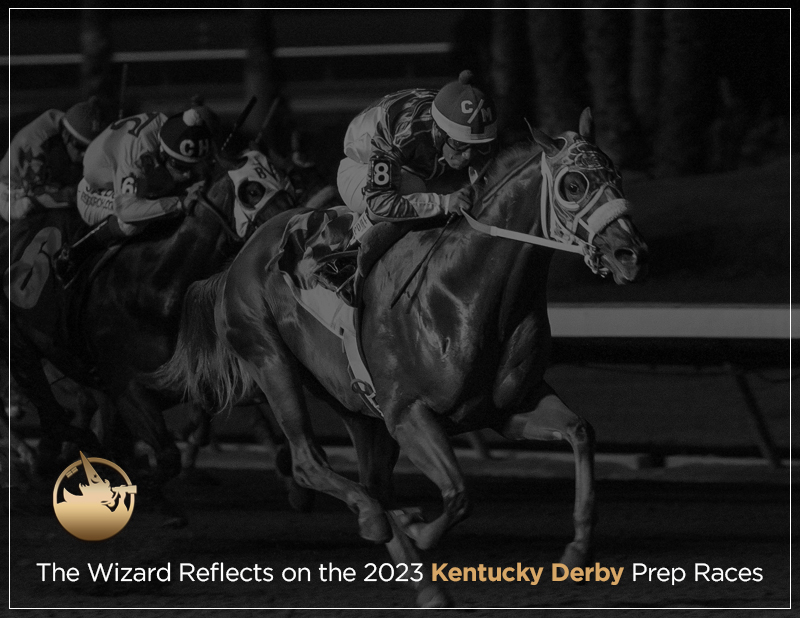 $200,000 Robert B. Lewis (Grade 3) Feb. 4, 2023
Winner: Newgate, by Into Mischief
Trainer: Bob Baffert
Jockey: L. Dettori
Owner: SF Racing, Starlight, Madaket, Masterson, Stonestreet (partnership)
Distance / time: 1 1/16 miles / 1:43 Track: Fast
Win margin: Neck
Wizard's Track Bias: None
Wizard's Pace Analysis: Honest
Wizard's Strength of Race: 2 / 5
Wizard's Reflection: 
The Robert Lewis clearly reflects what modern day stakes racing has become in the US. A four-horse field and by the way-ALL 4 horses trained Bob Baffert and 2 of the four owned by similar partnerships. That equals non-competitive racing and a bad product. Nevertheless, the Derby prep shows goes on and we must look at which horses are viable Kentucky Derby prospects.
NEWGATE closed from last with a sustained wide rally to prevail by a hard-fought neck victory earning him his second win in 6 career starts as the even-money favorite. His final time was good and he's clearly a 3-year-old with some upside. I feel he's capable of winning at 1 1/8 miles, but 1-mile to 1 1/6 miles could be his ceiling against topflight competition.
HARD TO FIGURE ran just as well as the winner, beaten just a neck, after stalking a close second from the start. He put away the pacesetter Arabian Lion and when hooked by Newgate, he dug in gamely to the wire. After the finish, he galloped out well past the winner suggesting he had plenty left in the tank. Considering Hard to Figure was making his first start as a 3-year-old stretching out to 1 1/16 miles, following 2 starts sprinting, it was a very good performance and clearly a career best race. Reuniting with blinkers which he wore in his first 2 starts also helped. He's an interesting horse to watch how he progresses next time out.
WORCESTER ran well to finish third stretching out to 2-turns for the first time making his third career start following his maiden win. He's another I would watch closely to see how he progresses in his next start.
ARABIAN LION clearly needed a cut back to a sprint after showing little resistance when collared in mid-stretch.