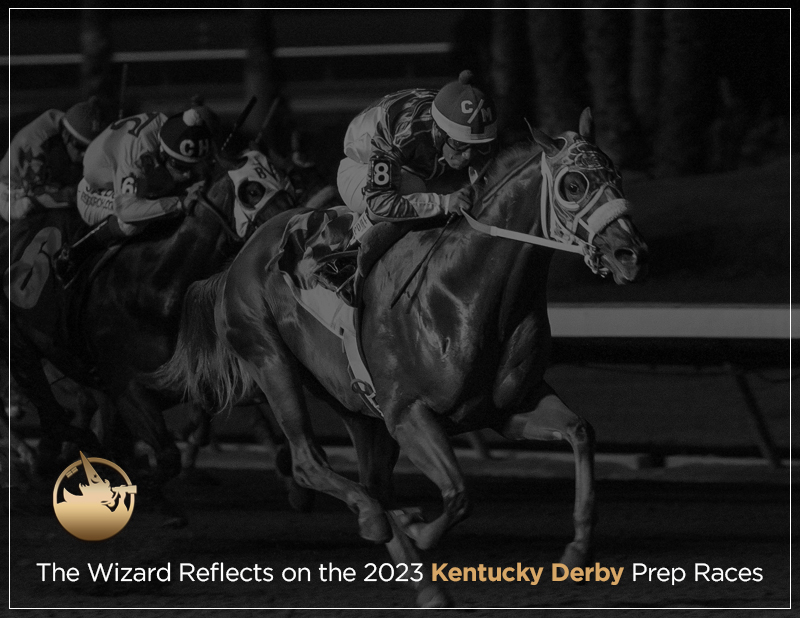 TAMPA BAY DERBY- GRADE 3 MARCH 11
Winner: TAPIT TRICE (Sire: Tapit, Dam: Danzatrice)
Trainer: Todd Pletcher
Owner: Whisper Hill Farms & Gainesway
Jockey: Luis Saez
Distance: 1 1/16 miles
Time: 1:43 2/5
Win Margin: 2-lengths.
Wizard's Track Bias: Stalkers / Closers and outside paths in the stretch 3 / 5
Wizard's Pace Analysis: Honest
Wizard's Strength of Race: 1.5 / 5
Wizard's Race Reflection:
The odds-on favorite TAPIT TRICE was much the best of a weak Tampa Bay Derby field. He broke slowly and was quickly relegated to last of 12. Jockey Luis Saez stayed outside on the best part of the track down the backstretch scrubbing on his mount looking to creep up into better striking position. Tapit Trice really did not respond to Saez's cue, until he swung him out widest turning for home. At that point, this one-paced long striding colt gobbled up the ground and simply wore down the field to win going away by 2-lengths.
This was Tapit Trice's first start around 2-turns and racing beyond 1-mile. It was a good effort for a horse who you know will handle added distance. My concern is that he's proven to be a slow breaker and not a nimble horse which will compromise his chances in a much bigger and tougher Kentucky Derby field. I feel hitting the board at big odds is clearly his ceiling the first Saturday in May. 
The rest of the Tampa Derby field are clearly not Kentucky Derby material.