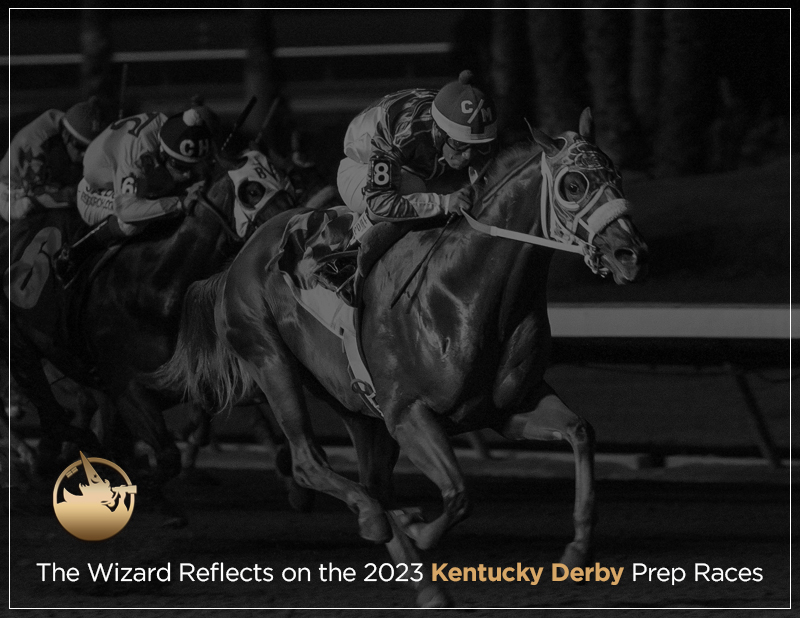 WOOD MEMORIAL-GRADE 2 (AQUEDUCT) APRIL 8
Winner: LORD MILES (Sire: Curlin, Dam: Lady Esne)
Trainer: Saffie Joseph Jr.
Jockey: Paco Lopez
Owner: Vegso Racing Stable
Distance: 1 1/8 miles (Fast Track). Time: 1:51 1/5
Margin: Nose
 Wizard's Track Bias: None
Wizard's Pace Analysis: Honest
Wizard's Strength of Race: 2.5 / 5
Wizard's Reflection:
 A stirring 3-horse stretch battle resulted in a blanket finish with 59-1 upset winner LORD MILES prevailing by a nose over the 8-5 favorite HIT SHOW who held off the 3rd place finisher DREAMLIKE by a head.
Lord Miles was forwardly placed from the outset rating in 4th racing 3-4 wide. At the top of the stretch Jockey Paco Lopez asked his mount to creep closer to the leaders and Lord Miles responded. He jostled with the runner-up inside the 1/16th pole but was able to prevail by a nose in a driving finish.
Despite drawing a tough outside post in 12, Hit Show and jockey Manny Franco were able to secure a decent position into the backstretch settling about 3-lengths off the leaders. Turning for home, Franco was committed to racing inside of Lord Miles and outside of Dreamlike with pacesetter Arctic Arrogance making it 4 across the track. Hit Show was unable to quicken because he was racing on his wrong lead and jostled by the winner. Once he changed leads, he battled gamely to the wire, just failing to prevail by a nose. If positions were switched with Lord Miles, racing outside instead of sandwiched between horses, I feel he would have won.
Dreamlike ran big considering he was still a maiden making only his 3rd start. He was adding blinkers for the 1st time, which he responded well to. Jose Ortiz had Dreamlike in perfect striking position from the start. He was able to get a jump on the top 2 finishers in mid-stretch, wearing down the pacesetter Arctic Arrogance, but was quickly hooked by the top pair. These 3 brushed saddles to the wire, neither of them giving an inch. Dreamlike was beaten a nose and a head for the top prize.
All 3 ran equally well considering the trips and positioning each of them had. Going forward, I would assume that both the winner Lord Miles and Hit Show will move on to the Kentucky Derby because each have enough points. I expected Hit Show to show a lot more against this field than what he did. Losing to a 59-1 winner who came into this race with just a 6f win to his credit and having not run a Beyer number above 79, tempers my enthusiasm on these 2 as well as the quality of this race. Nevertheless, I'm not giving up on Hit Show as I've liked his development and especially his decisive win in the Gr. 3 Withers. He's a candidate at a price to hit the board in the Derby.