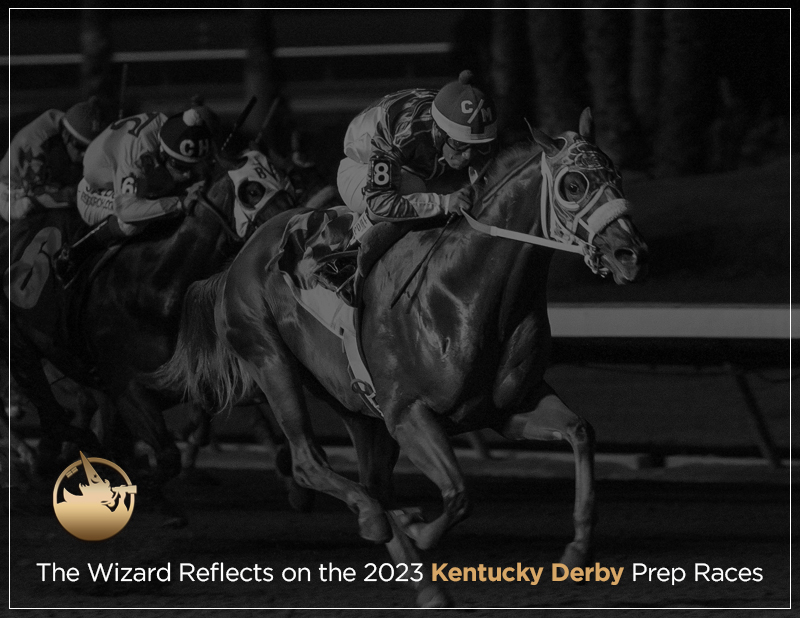 149th
 

KENTUCKY DERBY (May 6)

Winner: Mage (Sire: Good Magic, Dam: Puca)
Trainer: Gustavo Delgado
Jockey: Javier Castellano
Distance / Time: 1 ¼ miles 2:01.57 Track Fast
Win Margin: 1 length.

Wizard's Track Bias: None
Wizard's Pace Analysis: Fast
Wizard's Strength of Race: 3.5 

Wizard's Reflection:

Following another slow break from the gate which helped him, MAGE made a sustained run from the ¼ pole to the finish line showing several gears under a brilliant and perfectly timed ride by Javier Castellano. It helped that the early fractions were hot and contested. It was a well-deserved victory for this lightly raced 3-year who continues to improve for trainer Delgado. 

 TWO PHIL'S ran a terrific race, finishing second, beaten 1-length. Of all the horses who raced on or near the lead and involved in the fast fractions entering the first turn, Two Phil's clearly won the pace battle but in the final outcome lost the war. Jockey Jareth Loveberry positioned Two Phil's up close along the rail in perfect striking position early on. He benefited from a dream trip slipping inside of the tiring Kingsbarns turning for home, took a clear lead approaching the 1/8th pole, only to be run down by Mage in the very late stages. 

ANGEL OF EMPIRE tucked in to save ground entering the backstretch. He raced in close proximity to Mage towards the back of the pack. On the far turn, Flavian Prat moved with the winner, but he was out brushed by that rival who was quicker to the punch. Angel of Empire ran extremely well, racing very wide through the stretch, gaining steadily on Mage, but he simply ran out of ground.

 DISARM and HIT SHOW had good trips with dead aim on the leaders through the stretch. Both horses had every chance to make an impact on the top 3 finishers but were just not good enough when it counted. 

DERMA SOTOGKE broke inward brushing the starting gate soundly and was away slowly. He advanced through the far turn picking up horses but was unable to sustain any meaningful rally in the stretch. 

 TAPIT TRICE was slow into stride trailing the field into the first turn. He was fanned very wide into the stretch but had no punch in the lane finishing a disappointing 7th. 

 VERIFYING, KINGSBARNS and REINCARNATE were all contesting the fast early fractions and all 3 were done approaching the stretch. 

 

The rest of the field had very little excuse.